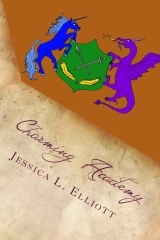 I loved this book. It is very well written, and brought me to tears
(of joy and sadness) on more than one occasion. I loved how it followed the wonder and angst of being young adults who are expected to fulfill their destiny by having the character of "prince charming" or "fair damsels" in a fairy tale world come to life.
The dramas the students went through felt very natural, even if it was angsty. I'm generally not a fan of angst. Some YA books I've read the angst feels forced, but here the ebb and flow of friendships, and each character's development as they grew throughout the school years was captivating without being annoying.
I enjoyed seeing the various characters and trying to figure out which of the classic fairy tales they were going to become. I'm not sure I figured out what the main characters' tale was, though.
All in all, this is a sweet, family friendly storybook that does deal with some harsh worldly truths, like death, bullying, making mistakes, and standing up in the face of something that isn't right. There are lots of good life lessons, but no hint of it being preachy or boring. In short, I loved it!
Affiliate Link